No Woman's Land by Avatâra Ayuso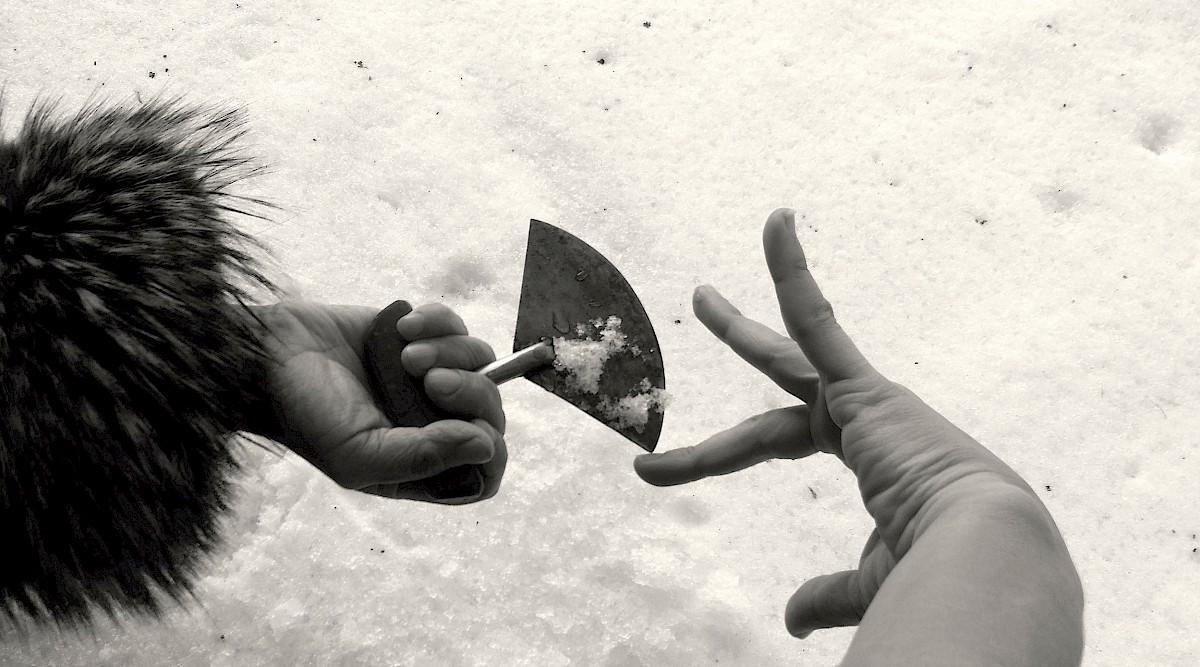 Spanish dancer Avatâra Ayuso leads this choreographic dance project that sheds light on relationship between two women from different ages and cultures (Inuit and Spanish).
The women belong to different and distant landscapes (the Artic and the Mediterranean Sea), and both have a strong will to survive, to share their passions and to overcome fears and prejudices. "Uki" means survivor in the Inuit language.
This duet will explore the cultural traditions and dig deeper into the experiences of these two women who are at different stages of their lives (in their 30s, and 50-60s respectively) and belong to such different cultures. The dance performance aims to value and to recognize the beauty of intergenerational relationships, through art and dance. What can emerge from such an unexpected encounter?
Naulaq LeDrew, a 57 year-old Inuk woman, will be the artist performing on stage with Ayuso. She is a performing artist working with traditional Inuit folklore, and a political activist defending the rights of the Inuit people.
Avatâra Ayuso trained in Ballet and Linguistics before moving to London where she obtained a Certificate in Higher Education at London Contemporary Dance School. In 2005 she became part of the D.A.N.C.E. programme where she worked and performed internationally under the artistic direction of William Forsythe, Wayne McGregor, Frédéric Flamand and Angelin Preljocaj. In 2008, she obtained a Master Class in Professional Dance from Palucca Schule Dresden. She is Associate Artist of the European Center for the Arts Hellerau Dresden and Associate Company of Creative Academy Slough (UK). She was nominated for the 2015 National Dance Awards in the UK. Ayuso is Associate Artist of Shobana Jeyasingh Dance (UK).
Alongside choreographing and running AVA Dance, Ayuso teaches professional and company class throughout Europe. She is fully committed to empowering women and girls around the world, taking part in various initiatives to promote change and equality (as Inspiring the Future Inspiring Women UK, and the HAMS the refugee women's group in Dresden). Her latest film project Three Women Three Films is a trilogy of short poetic films on women and extreme landscapes. I Am Raja the first of the trilogy was shot in the Sahara desert and is produced in collaboration with Braunarts Production Company (UK), with support from Arts Council England.
Updates
May 8–9, 2018: premiere in Dresden, Germany, at the European Centre for the Arts Hellerau.
June 14-15, 2019: presentation as part of the Border Crossings' Origins Festival under the new title No Woman's land: two women, two generations, two cultures, two lands. In this duet dance artist, Avatâra Ayuso and Inuk elder, Naulaq LeDrew, explore the migration experiences that took them away from their native lands in the Spanish Mediterranean and the Canadian Arctic, digging deep into their cultural traditions, histories, humor, prejudices and fears.