Sandra WIS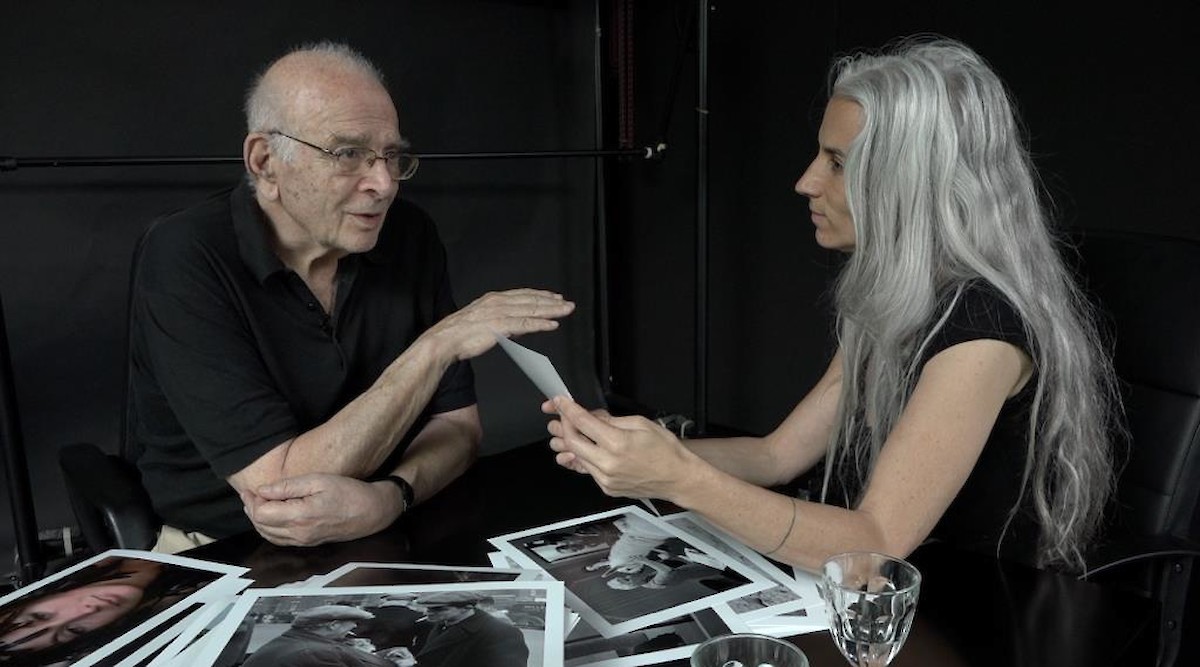 We met with Sandra WIS when she visited Canada to present a documentary about visionary photographer Frank Horvat at the 37th edition of the Festival International du Film sur l'Art in Montreal.
Tell us a little bit about you and your work. How is the relationship between the two of them? What has brought you to where you are professionally? What do you love about your work?
I was born in Barcelona and since I was a little girl, my family used to say that "I had my head in the clouds." They said I was an idealist. I remember them telling me "niña baja de la luna." I wanted to save the world, the animals, everyone! I was just a dreamer. And I still am. For a long time I felt bad for being such a dreamer. But one day I realized that being a dreamer was my strength. My imagination and my passion for life and people were my power. "La fuerza!" But, of course, also my fragility.
Today all my artistic work and documentary projects are based on this duality of "strength and fragility." But isn't life all about that? Actually I think that finding the balance in your life is the key. I would have loved to be a psychologist, a therapist, to help people. But instead I became a filmmaker. And in some way, I also take care of people when I film and interview them. And that is what I love about my work: Filming real people, listening to them, understanding their work, their process of creation or thinking, and making my film with them. My passion is what drives my work. I would say I write my emotions with my images, it can go from an one-minute short film to a one-hour documentary. There is always the same personal and artistic research: Emotion, truth and real feelings. Art is a cure. Art can heal wounds.
Tell us an anecdote about your initial stages as an artist.
Actually, what is an artist? I don't really think of myself of an artist. I haven't studied in art school, so I am what is commonly called "self-taught." I haven't really understood that need to put people in boxes because I believe that every person and artist has his or her own story, and they are all different. I haven't been taught what I do. It just comes out naturally, from inside. The unconscious has a lot to do with this: Everything I've seen, lived and listened to is in my work: My personal life experience, but also the story I carry out from my family, my country. etc. We are made of all of this too! And that is what is interesting about it. I live in Paris but my Spanish and Catalan history is also present in my way of thinking and in my work. Creation and art are ways of expressing myself and trying to understand who I am. We don't decide to create. Creation is life.
Describe your workspace? What can we find in your "workshop"?
My son is a 12 year-old boy named Max. It is very important for me to spend time with him, so I decided to bring my "production material" at home so I could work and be with my son. So I go out shooting, and then I edit at home. It is not always easy to handle both being the mother and the filmmaker in the same space and time. But today Max has become my best personal adviser on editing. On my desk there's my big computer for editing, and also a big stone from the mountain, and 6 or 7 smaller stones in different colors forming a sort of galaxy. These tones represent nature, the mountain where I love going to walk and meditate, and the beach that reminds me of my childhood in Barcelona. The horizon and the sound of the sea… It is very important for me to stay grounded, connected with the earth.
What is unique about your work?
My work is unique as each one of us is unique. But at the same time my work is connected to the rest, as all of us are connected. I believe that changes can come from each one of us, as we are all connected. L'effet papillon, or the domino effect. My work changes, evolves, sometimes it gets stuck, or it changes direction completely. But I think that it is definitely always in movement, fluid as water. Water is nature's element that best adapts to its context.
What has brought you to Canada? What is your relationship with this country?
I had the pleasure to visit Canada this year because my documentary Le photosophe, des instants avec Frank Horvat was part of the official selection at FIFA in Montreal this year. This is a documentary film with Frank Horvat –an intimate film, where the 90 year-old photographer talks about life and photography. It's a testimony of more than 70 years of photography.
The screening at the McCord Museum in Montreal was a great moment of sharing with the public. Another screening took place at the Musée des Beaux-Arts in Québec. So yes, I really enjoy visiting Canada. I felt a freedom of movement that we unfortunately have lost in Paris after the terrorist attacks. Here in Montreal I had the pleasure to walk around the city and also freely visit the "underground" city. This is a city of contrast where nature and architecture have lived together for centuries. The city was very inspiring and people were very welcome. I remember meeting this woman in a park sitting on a bench, reading a book, and she just naturally started explaining to me the history of Québec and the different regions of Canada. I felt how history is important to Canadians. And I believe that it is very important to continue teaching history to new generations if we want to build a better world. We don't have all the answers but we should sometimes look back not to repeat the same mistakes, and let new generations take their place and do their work too.
Do you have any new projects in mind? Professionally speaking, which direction are you taking?
Yes of course, I have a lot projects! I have many ideas every day. Remember the girl with her head in the clouds, the dreamer? So yes I have a lot of dreams! Some of them will come true, other won't. That's life, but it shouldn't stop people from dreaming. As Oscar Wilde said, "shoot for the moon. Even if you miss, you'll land among the stars." So yes, I am writing a new documentary film, which gives voices to female victims of psychological violence. I don't want to do a drama but a positive film, a film where we could all take something out of, and try to change our behavior. Because unfortunately, a lot of persecutors were first victims… And I believe that art and films can sometimes make people think about their lives and themselves.
Which object would you bring to a desert island or a secluded cabin in the forest?
Water… my husband and my son! Sorry, you said an object. So, if I had to choose an object, I would probably say a knife.
What did you want to be when you grew up?
I don't remember wanting to be something in particular… But I remember the feeling of wanted to save the world!
A special place for you in Spain?
Gaudi's Park Güell in Barcelona is a very special place for me in Spain. I would say a nostalgic place! I remember going there when I was a little girl with my father and our big dog. At the time, during the seventies, the park was abandoned. I was impressed by the architecture of Gaudi. The colored mosaic salamander, "le drac" and the incredible bench as a colored snake made out of mosaics too. I was impressed by the contrast of nature and architecture. Something that still interests me: How humans interact with the place they live in. The Güell Park has changed a lot since then, but I still like going up there to the mountain of Barcelona and looking down the city towards the sea and the horizon. I like to imagine Gaudi dreaming of a better world, or at least a better living space for the people of Barcelona at that time. That dream never came true since the project for a city was never finished but it left still a huge artistic mark all around the Park.
Another very special place for me is the Coast in Southern Spain. Villages and beaches like Sanlucar de Barrameda, Conil de la Frontera… until Tarifa. Nature, wild locations, beautiful authentic villages and beaches facing the ocean! I like going there when I can just to contemplate the sunrise and share the Spanish tapas with my friends. I love the rhythm of living in Spain! Even today, living in Paris, I like making my tortilla and other tapas and share them with my Parisian friends!
What song is stuck in your head?
I love music. At home we listen to music all day long day: Rock, jazz, piano, flamenco or classic French such as Georges Brassens. All types of music, depending on our mood. So here and now, today, I would say I have 3 pieces stuck in my head:
Where is my mind by The Pixies. I love the melody of this song. Nostalgic, poetic and also rock.
Cuando un amigo se va, algo se muere en el alma by Los Amigos de Gines. This is a traditional Spanish song that I have now in my head since a very close friend just left us and I listen to this song as an homage to her.
White keys by Chili Gonzalez. Chilly Gonzales is a fabulous composer, musician, an incredible pianist! Actually I just learned that he's from Canada! Montreal!
Which book do you carry in your backpack?
I love reading. Reading is learning, dreaming, having fun or crying. Reading can help us better understand history. Reading can bring you fun, or it can be painful. And sometimes reading can just be like a sedative and help me stop thinking…I especially like reading autobiographies and biographies –real stories. I just read Mr Train, an autobiography by Patti Smith, a singer, artist and writer whom I love. But right now, the book I have in my bag is Women who run with wolves. This is a very special book that every woman should read! A book by Dr. Clarissa Pinkola Estés, the result of her research for more than 20 years. A book about women, the female psyche, our instincts and creativity. But you need to take your time to read it.
Tell us about a special movie for you.
That's a very difficult question… I love cinema and documentaries. As with music or books, I like many different styles. It depends on my mood. I love the style of the Korean filmmaker Kim KI-duk. And if I have to chose one film today, I would say El Laberinto del fauno by Guillermo del Toro. I guess I am mélancolique today…
Tell us about a show / performance that is special to you.
I just saw here in Paris a powerful and very interesting show-performance and dance called Bailar en hombre by Fernando López. Fernando is a Flamenco dancer, philosopher and researcher. His show-performance mixes Flamenco traditional dance, with audiovisual material as archives and sound. It was a deep powerful moment for me. Very inspiring! I hope you will get to see him in Canada!
And an artwork piece?
I like very much the artwork of Philippine Schaefer. Philippine is an artist in performance, photography, sculpture. I have been filming her creative process, and every time she surprises me with her work and personal research. Her self-portraits in nature make me think of the duality of "force and fragility" in human being, especially women. This topic interests me in every aspect of art and life.
If you could change something –anything– what would you change?
I would definitely want to put an end to all human violence! I would like to see all this violent behavior disappear, which is unfortunately written in our minds, our history, our memories and our DNA. So we must do something to stop this never-ending transmission from one generation to the next. I believe that individual acts can come together and push for common change. So I encourage everyone to become more aware of their own behavior, and identify the violence in their lives, acts, thinking –and I encourage everyone to stop it.